by
Suzanne Goldenberg
, US environment correspondent, The Guardian,
http://www.guardian.co.uk
Officials report weathered oil in areas struck by the hurricane that also were badly damaged after the Deepwater Horizon spill.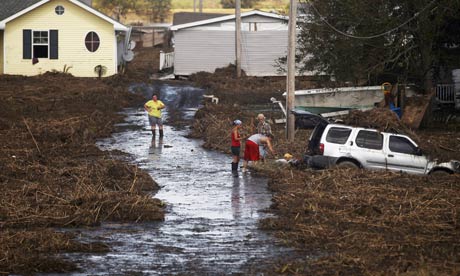 Braithwaite, Louisiana, experienced a chemical release in the aftermath of hurricane Isaac. Photograph: Mario Tama/Getty Images
Louisiana
is investigating whether tar balls deposited on Gulf of Mexico beaches by
Hurricane Isaac
were relics of the 2010
BP
oil
disaster.
Government agencies and environmental groups this week reported weathered oil in areas which took the brunt of last week's hurricane - and which were also heavily damaged by the 4.9m barrel gusher from BP's leaking oil well.
"I'd say there is a smoking gun," Garrett Graves, the coastal adviser to Louisiana's governor Bobby Jindal, told news organisations. "It's an area that experienced heavy oiling during the spill."
State officials shut down commercial fishing and all shrimping in a 13-mile stretch from Port Fourchon to Caminada Pass, after observing tar mats and high concentration of tar balls on beaches.
The Gulf Restoration Network, which has been touring the aftermath of Isaac by air and boat this week, said crew had reported 109 dead pelican in the wake of the storm and oil in a number of locations on the Louisiana and
Mississippi
coasts.
"We saw a fair amount of oil sheen and fresh tar balls at Ship Island, one of the Mississippi barrier islands," said Aaron Viles, a spokesman for the coalition of environmental groups. "The storm really delivered a shock to the ecosystem, and we are seeing BP oil showing up again and we are seeing, unfortunately, real impacts to an ecosystem still struggling to recover."
The Gulf network had repeatedly warned that powerful storms risked dredging up oil that had been purposely sunk to the ocean floor, by the use of chemical dispersants in the wake of the
BP oil spill
.
To read further, go to:
http://www.guardian.co.uk/environment/2012/sep/05/louisana-isaac-tar-gulf-oil?INTCMP=SRCH